Composite Decking
Composite Decking is a low-maintenance, high-quality, environmentally friendly long-lasting alternative to Timber Decking.
Composite Decking Boards are cost-effective Board, manufactured to be easy to maintain, durable and attractive.
Decking Boards are available in eight attractive colours, Stone Grey, Light Grey, Charcoal, Redwood, Teak, Ivory, Olive Green and Coffee. Giving you the option to create unique patterns and designs with complementing or contrasting colours. No matter your desired colour scheme or style, there should be a colour to suit your project.
Composite Decking Boards are made from a mixture of 60% wood fibres and 40% recycled polyethene, together with additives, tints and bonding agents. Composite Boards are better equipped to endure the elements compared to timber.
When installed narrow groove side up, the Boards offer low-slip, scratch, stain and mark resistant properties, making them the ideal product for any outdoor dining or socialising area.
Composite Boards also benefit from enhanced UV protection, which helps resist colour fade, some fading may occur, but this should only give the Boards a stylish weathered appearance.
Unlike traditional timber decking, Composite Boards, thanks to their densely packed interior, Boards should not rot, warp or splinter.
Composite Decking Boards are easy to install and can be cut using traditional wood saws and tools. If installed correctly and to industry standards, Composite Decking comes with a ten-year guarantee. This long-lasting, cost-effective Decking Board is the perfect Decking Board for any size of style project.
Board specifications:
Dimensions 4000 x 150 x 25mm
Weight: 11.2kg per Board
SQM Coverage per Board: 0.6m2
Composite Decking may need to be kept clear of debris and require periodic cleaning with Decking Cleaner and a Pressure hose. However, unlike timber boards, they do not require regular sanding, staining, varnishing or painting. Meaning you are free to enjoy your Decking, year after year, without the hassle of maintenance.
Domestic Grade Composite Decking Board Options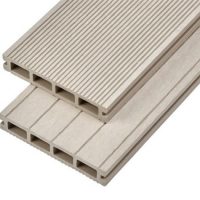 Hollow White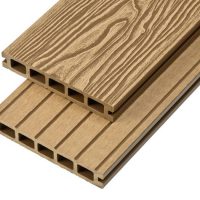 Hollow Wood Effect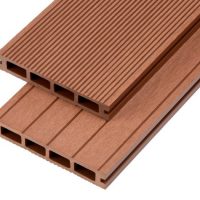 Hollow Redwood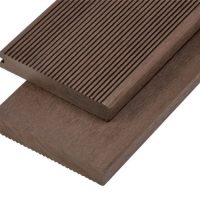 Solid Coffee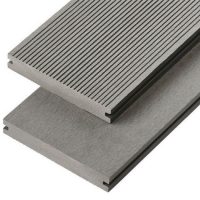 Solid Grey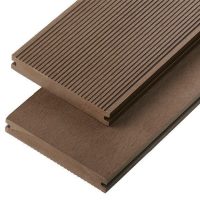 Solid Teak